It's a strange thing to be pregnant. I mean, not just the part where I am growing a human inside of me, although that is pretty darn weird. I am talking about how people have become more protective of me since I have really started to wield the power of the pregnant belly. Eric has always been a complete gentleman, but now there is an added tenderness and a hint of extra concern as I stumble around through the last couple months (just under two months if you want to be accurate). My mom has taken to walking on the street side of the sidewalk when we are out together.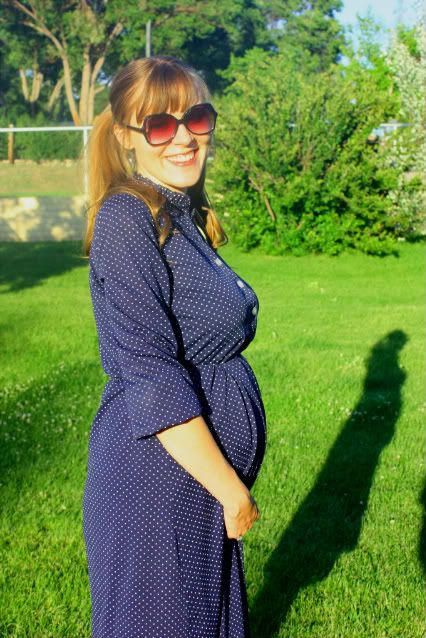 It's not just friends and family, but strangers as well. I have noticed that people are a bit more polite about letting me cross the street and they hold doors even when I am approaching from a long way off. I also enjoy the polite smiles and kind words. Though I must note one strange woman stared at my belly with a shocked look, as though she had never seen such a thing as a pregnant lady, that made me laugh.
Anyway, I remember those days before I was pregnant (seems like I've been pregnant forever) when I felt a bit extra protective of our pregnant ladies. We, or at least I, tend to think of pregnant ladies as more than just belonging to themselves, but sort of as property of everyone. Isn't that weird? I really don't mind this phenomenon. I think it must be something deeply ingrained in us as a species. I mean, sure we are protective of babies and children, but pregnant ladies fall into the same category.
It kind of reminds me of early childhood, that feeling of being so protected. Don't get me wrong, I love my independence, but it is oddly familiar to have other people so concerned for my safety. I wouldn't be surprised if people offered to hold my hand as I cross the street. Now, I suppose I could find this to be a little annoying, but instead it makes me feel really happy about this little girl. I know that all of this attention will soon be transferred onto her and she will be SO watched over, it's nice to give this support system a trial run for her.
With that said I will certainly be quite happy to be able to trip and fall in peace once I am no longer pregnant. Now I worry about stumbling (one of my hobbies) because I know it will draw gasps from horrified onlookers. I may give someone a heart attack if I take one of my signature tumbles or trips.