Yesterday was the baby shower! I have been anticipating the event for months and months. I awoke to a beautiful day and I was so excited to go to this party. I looked at it as a time to celebrate this little girl that we are expecting in just over a month.
Aren't these flowers beautiful?
I was so touched when our family friend Kim offered to throw the shower since Eric and I are pretty new to the area. Wow, did Kim ever deliver an amazing shower! First of all she went above and beyond and created a vegan luncheon!
One of many super-delicious salads.
She had a variety of seriously delicious salads and these mouthwatering muffins. All of the guests were raving about the food!
A few of the guests...my mom is in the orange dress.

The guests were a great mix of people and everyone seemed to genuinely enjoy each other's company. There wasn't a moment of awkward silence, it was all so easy and happy.
After lunch and some good conversation we opened gifts. I can't even begin to express how thankful I am that people were so generous and thoughtful. I am very happy to bring a little girl into such a kind and giving world!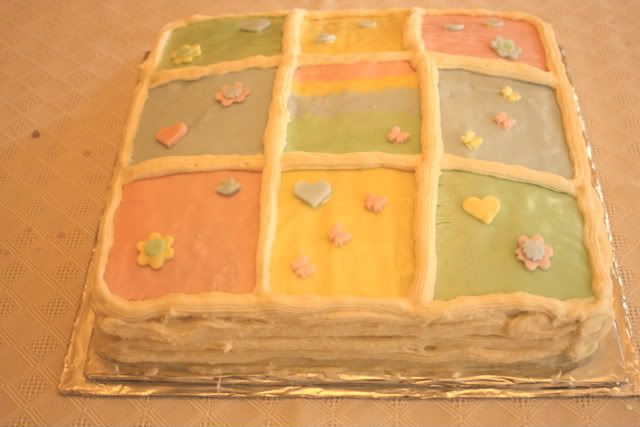 After the opening of gifts we had some delectable vegan cake! Yum, yum, yum. I left the party feeling deep gratitude. So thankful that my mom was there being the remarkable woman she is, that all of these new friends and amazing women were there to show their support and offer their tidbits of wisdom, thankful that we are finding friends and a home here in Wyoming, thankful that my aunt drove all the way down for the day. Just so thankful.