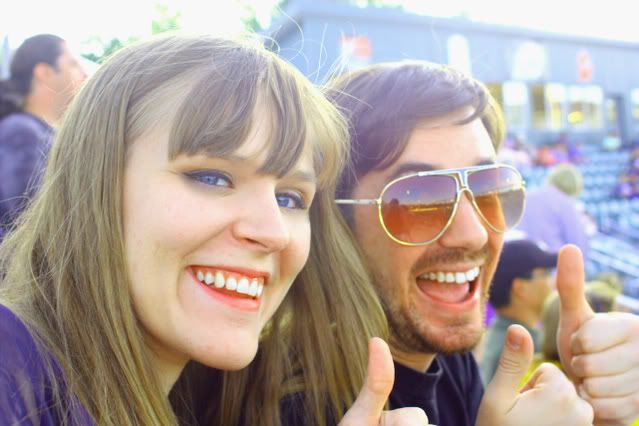 Last night we went to a ball game with my parents. Our local team has been doing miserably so we didn't really expect to get into the game. Instead we focused on people watching, goofing off and conversation.
Here are a few highlights:
A boy of about 8 or 9 was yelling at the top of his lungs behind us. He was pretty much repeating everything that the announcer yelled. It was a little creepy when he started chanting "Beer,beer, beer," but the rest of the time it was really funny.
My mom turned her cap backwards and Eric decided that she looked like a Little Rascal.
There was a girl nearby who was painfully awkward (reminding me of myself at that age). She was putting on quite a show. She was yelling to the mascot and zoning out doing the splits on the bleachers. The high point though was when the little entertainer was called out onto the field for a dance off and she totally froze up. I couldn't blame her, the guy she had to dance against was doing the worm. She was in such awe of the worm that she forget to play her secret dance weapon of doing the splits.
We had a newscaster sighting. This time we saw the queen bee of newscasters. She was very tanned and had large lovely hair, just as a newscaster should be. We're on a roll here in WY.