Today I thought I'd take a dive into the archives. A decade ago I had just graduated from high school. Eric and I were essentially an old married couple, we'd already been together for a year and a half and at that age it was equivalent to one million years. We took a little trip that ended up being incredibly influential. We did some weird jobs to save up for the trip including: helping a male model move, painting a baby's nursery and scraping the paint off of my parent's house. I should also mention that we had a lot of help to make the trip happen.
Anyway, we found ourselves in Europe. We couldn't believe it, we felt so instantly cultured. Ha ha. Also, in case you are wondering,
YES
Eric was indeed listening to a lot of
Depeche Mode
at this point in time (his style gives it all away). We tried to jam pack the entire trip (which was with an artist group) into one mini-tour of Europe. While we missed a lot we hit France, England, Holland, Germany and a few other little drive through situations that don't really count for much.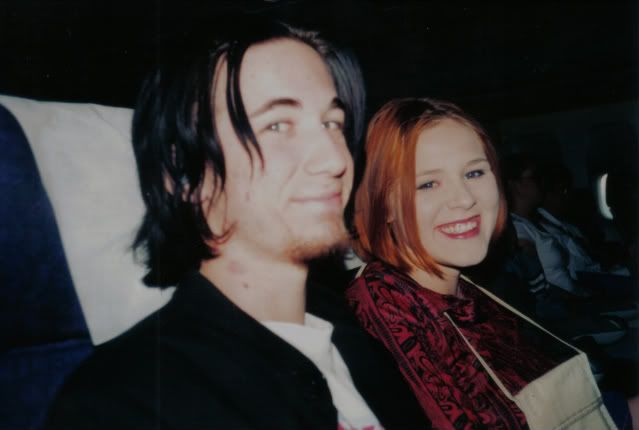 In preparation for the trip we tried to get ourselves prepared for some of the history and art history we were planning to encounter.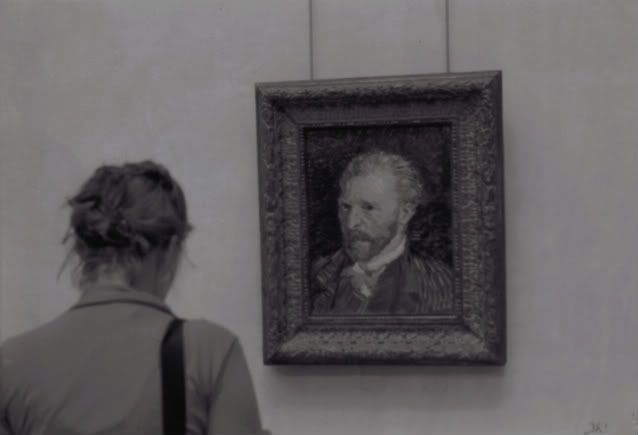 Here is a picture of me spotting my first Van Gogh. I remember feeling so aware of what I was looking at, a feeling I try to recapture each time I look at a master's work. The seed was planted on that trip and when I started college in the fall I signed up for my first art history class. It was love.

Here is a great shot of Versailles. Eric was just beginning his love affair with photography, which he eventually shared with me. Now, not one moment of our lives seems to go undocumented....not sure if that is really a good thing, but it started on that trip.

Here is one of many classic tourist poses we took on that trip. When we returned home we felt like something had changed. Sure, we felt more cultured and more adult. Very important for young folk about to start out on their own. We also felt more connected to a global community and our future career paths were also in the beginning stages. I should also mention that on this trip we had the first seeds of vegetarianism (and eventual veganism) planted, which has since become a huge part of our life.

Some other (less formative)highlights of the trip were:
1) When Eric was chased through Montmartre by someone yelling "Hey fashionable man!"
2) When I tried to buy some shoes in London and they laughed at me when they realized that I have giant sized feet. One man told me they didn't carry my size in the UK and that I would have to special order. It stung a little when he had his shoe buddies come and take a gander at my Sasquatch feet, but mostly it was funny.
3)When a street artist was trying to entice our friend into sitting for a portrait he yelled, "You're not that ugly." She was very pretty by the way.
4) A bus driver that got into 3 minor accidents between Paris and Versailles.
5) Another bus driver named Pascal who sang Wild Thing because he felt as though it impressed us Americans. We later named Eric's parent's cat after him although Eric's father cat quite get a handle on the pronunciation and calls the cat Pasquall.