My parents have been out of town the past week. Eric and I have been house sitting for them until recently. After a 16 hour travel day on Thursday they were back home in Wyoming. They stopped by our house supposedly to show us their pictures and see the crib before we headed out to lunch, but I suspect it was also to get a dose of Bumblebee's rampant enthusiasm. Bumblebee certainly delivered her trademark joie de vivre.
After looking through the photos of their trip we headed out to a new restaurant. Eric and I are always prepared to be a little disappointed when we try out new restaurants; not every place has many vegan options. Usually we can find something to eat at any establishment. Yesterday's restaurant was in a converted home. They served lots of fresh foods, wraps and such. Eric and I were in luck and they even had a few choices for us!
I had to start with a raspberry lemonade. I think this is the quintessential summer drink. I am in love with raspberry lemonade. Have you had it? If not, I recommend that you stop what you are doing and run in a panic to the nearest raspberry lemonade dealer.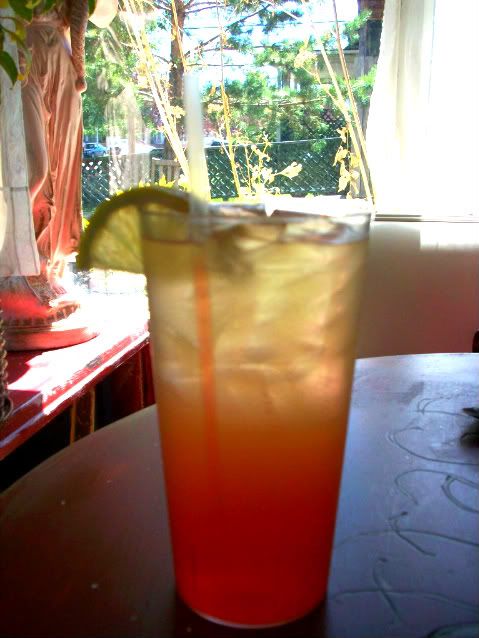 We had a good time catching up with my parents in the quaint little restaurant.
Lunch arrived and it was the perfect size, not too much and not too little. I had a roasted red pepper, hummus, spinach and sprout wrap accompanied with a light salad. Perfect for a summer afternoon.
I love when I go to a restaurant and get the perfect amount of satisfaction. I had great company (although Eric and my dad geeked out and made weird jokes most of the time) and great food and of course RASPBERRY LEMONADE!