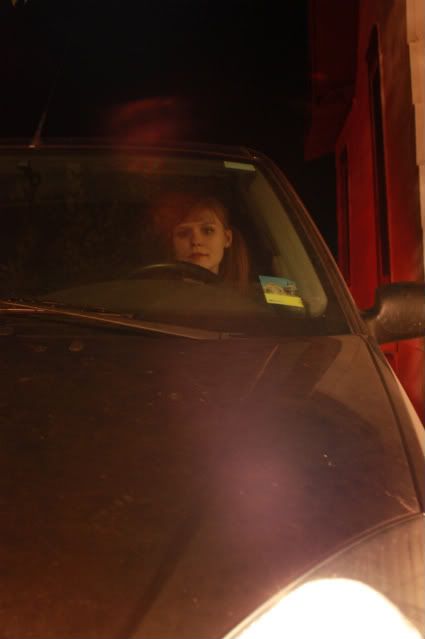 Yesterday I took another mini-road trip with my mom and Sam (my youngest brother). We were headed out of town to see my grandmother, cousins, their kids, my aunt and great grandmother. I think this will probably be the last road trip I take until after I have the baby. Mostly just because it's getting rough sitting in one position in the car for so long.
We left town early (the photo is just a picture of me in a car, it wasn't taken yesterday). Sam, newly licensed, drove us the two hours. As we were leaving we were instructed to
drive safe and sanitary
. That little phrase has become something of a strange superstition in my family. Every time any of us travel out of town we know that we will be told to drive safe and sanitary. There have actually been times when my mom doesn't know that I am leaving town and I will call her just so she can give me the order.
Recently I found out that it was something that started on my mother's side of the family and that the entire extended family says it to each other and to non-family members alike. It is spreading like wildfire. Sure, it makes limited sense, but we all say it and we all do it. I tell it to friends and strangers, anyone who is planning to travel. It's not that I think I will jinx a trip or anything, it's more that it doesn't seem like I can do anything else.
Anyway, we made the trip up to see the family and had a lovely time with all of the chaos that only comes with a growing and wonderful family. When it was time for us to head out we were told to drive safe and sanitary and we gave the order to other family members who would also be hitting the road.
Does your family have any weird catch phrases or superstitions?