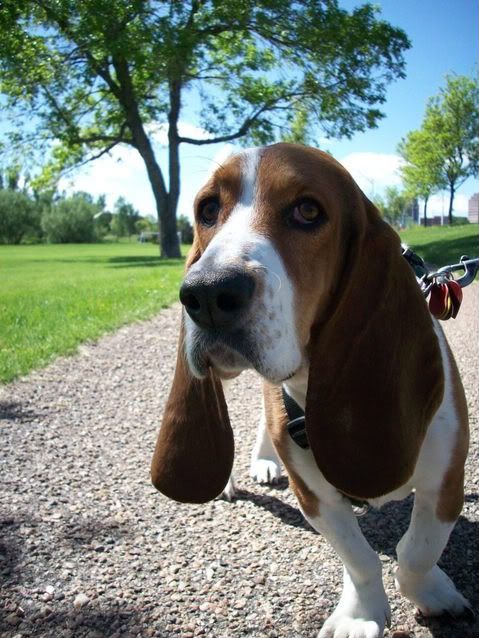 So, I woke up this morning and lay in bed and couldn't help but think about a job I had many years ago. For some reason I just kept thinking about this silly job for no real reason. I wasn't puzzling over any part of it, don't feel like I want it back, don't have any unfinished business...but there it was floating around the front of my brain. What's that all about? So, I am just going to tell you about this job as it is (apparently) all I can think about. I had the job in 2002 during the one and only summer in Missoula that I did not take summer school. I worked at a dog daycare. My professional title was dog wrangler (I rolled my eyes a bit as I wrote that, such indignity). Anyway, many of you know that I am a huge animal lover so it seemed like the appropriate place for me to seek out employment.
One morning I stopped in and dropped off my resume and the manager took it and asked for my astrological sign. She wrote Aries across the top and sent me on my way. I was not pleased about the process. The next day they called and offered me a job, based on my astrological sign alone. I took the job.
A couple of days later I found myself at my new job, wearing old jeans and a t-shirt, not sure of what to expect. The dog daycare was just a huge gated room with indoor and outdoor areas. I was immediately thrown in with some gloves and another worker. My first day was a bit terrifying when a pit bull/great Dane mix decided to start fights. I watched in terror as my coworkers threw themselves onto the fighting dogs, going against all logic. How could I ever do such a thing? Soon enough I learned to do just that. Serious dog fights were rare, but soon I ran toward aggressive dogs and was able to quell fights with just the sound of my voice although I also threw myself bodily into the middle of some of the larger skirmishes (which always sounded far worse than they actually were).
It was such a strange change for me to become the alpha in a pack. Although I don't think Eric much appreciated the change. I had to work very hard to leave work at work. I had the tendency, at that time, to just bark out orders to whomever happened to be around. It really did not translate well in human society.
The real highlight of the job though was that I got to spend my entire day running and playing with an ever changing pack of dogs. I wouldn't even try to keep clean. I would come home from work, crusty and dirty with dog funk. It was such fun to just get dirty and have a glorious time. Sometimes I would work nights. I would sleep on a plastic covered queen bed in the middle of the large room, dogs would surround me and radiate outward like some giant dog mandorla. I loved it and felt like queen of the dogs.
When summer came to an end and school was about to resume I had to leave my job and get serious about school. I am glad the job ended when it did, but what a unique experience. I still have remnants of it today. For instance, we were strolling about the neighborhood the other day when a dog approached. I instantly hopped in between of Eric and Bumblebee and the unknown dog with my best defensive posture, ready. Eric was horrified by this and reminded me that I am enormously pregnant and should probably avoid any potential for dog bites (sorry hubby). Most importantly I fell in love/became obsessed with adopting a dog. It was several years before it happened, but Bumblebee came to us as an indirect result of my job. So, there you have it. Who knows why that was on my mind this morning, but maybe now I can move on with my day.
Do you have a job that has stuck with you?