I am not much of a pajamas type of girl. Generally I wear shorts and a t-shirt to bed. If it's cold I upgrade to sweatpants. I've never really given this much thought until this past week.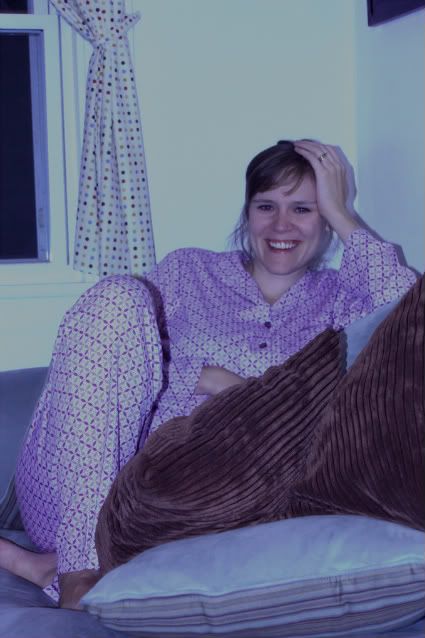 Amid my frantic over preparation for my impending due date I have been taking in loads of advice and one thing that keeps coming up is that I need to invest in a pair of button front pajamas. Well, I decided that it was high time I take a walk on the wild side and buy myself some pajamas.

I went to the store the other day in search of some cute, but really inexpensive pajamas. I found inexpensive pajamas that didn't boggle my mind or anything, but they were really soft so I went for it. I took the pajamas into the dressing room. I assumed that if I could fit into them now I'd be able to do so in the coming weeks (they're drawstring). I stood in the dressing room for several minutes trying to decide if I should pull the waistband over my big belly or keep it under. I opted for under. These are the dilemmas of pregnant ladies...or at least this lady. After several minutes of turning from side to side, mostly because I haven't spent much time in a dressing room this year, I decided to go for it. I got back into my normal clothes and the dressing room attendant gave me a knowing smile as I took my pajamas with me. I am not sure why, but I felt a little bit victorious as I walked out of the store.

I took my new pajamas home and left them sitting in their bag for a few days. Eric kept asking me when I was going to wear them. I told him I was saving them like an outfit for the first day of school. He mentioned that he thought I was weird and that I should just go ahead and wear the pajamas. I thought it was weird that he cared, but last night I decided to go ahead and give the pajamas a trial run.

We settled in for a movie night and I felt like I was at a slumber party or something. Like I should eat popcorn and have a pillow fight. Instead we sat on the couch and watched our movie while I ate a bowl of cereal. After the movie I changed into my usual shorts and a t-shirt, it was a little too hot for the full pajama effect, but I have to admit, they were a little bit heavenly. I may be a convert.