OK I admit it, Eric and I were afraid of the first bath. We envisioned screaming and crying---us, not Cordelia. Last night we moved beyond the sponge bath and decided to give Cordelia her first bathing experience. Of course we had to photograph it, because I think it's the law of new parents.
I gathered all of our bathing supplies and got the bath water to the perfect baby friendly temperature. We both checked it, just in case one of our wrists was unnaturally impervious to heat or maybe the bath toy that tells you it's too hot was defective.
* I must mention that Bumblebee thought the bath water was for her and she went running off to climb the furniture. You can read about Bum's bath
experience here
, it's pretty funny.*
Cordelia seemed perfectly content with her bath, not a tear was shed. She was in and out of her adorable whale shaped tub (thanks Jennifer J.) in a few short minutes.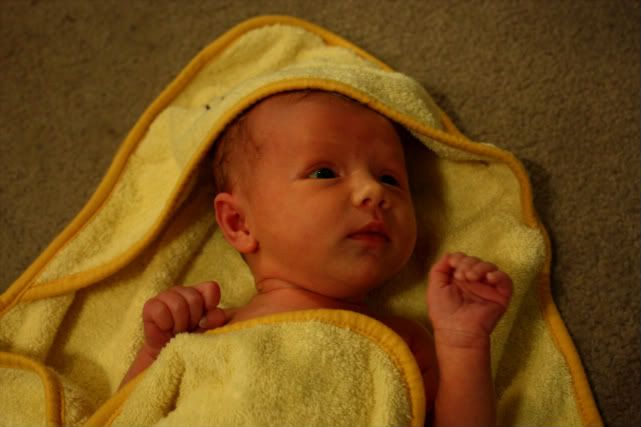 We wrapped her up in a towel and the first bath was over. Now I feel like I am an expert at baby bathing.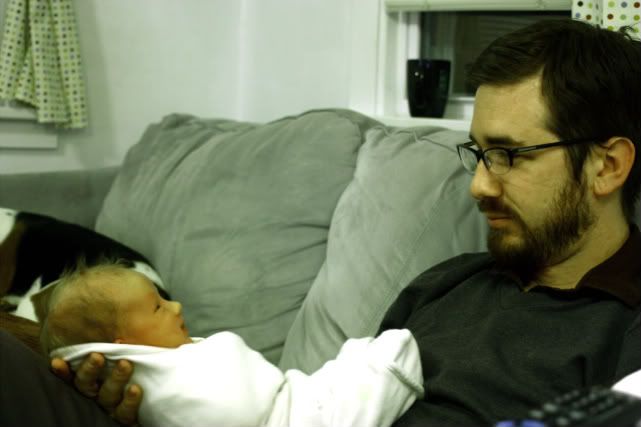 Finally Eric and Cordelia settled in for a good gaze at each other.