Wow, I am pretty much back to normal. I am fever free and my cough is almost gone. Thank goodness we treated this right from the get go. Even more important this week as we have a ton of family coming to town to meet Miss Cordelia. She's got the baptism thing happening this weekend and I didn't really feel like wearing a face mask to the event. I am still wearing it for one more day, but mostly as an extra precaution, not out of necessity.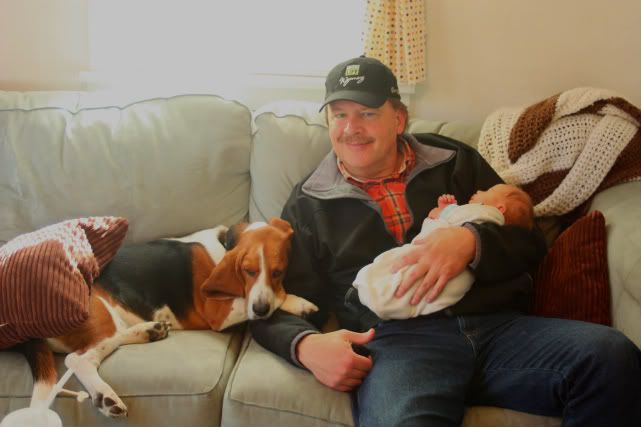 Photo has nothing to do with the post, it's just a cute picture of my dog, dad and daughter.
Today my cousin Erin (
you'll remember her from the coolest night ever --click here to read
) is flying in to town. She is Cordelia's godmother and I can't wait for her to meet my girl. Plus, Erin is just so much fun to be around. I am happy to be on the mend so quickly.
Tomorrow my grandmother and my aunts and uncles will be coming to town as well. I am very thankful that I have a family who is so excited to meet the newest member.
Needless to say I am giving my house a very thorough cleaning as I have been doing the bare minimum since bringing Cordelia home. I've got the robot vacuum going and I am off to put a basket full of clean laundry away. Happy day to you!