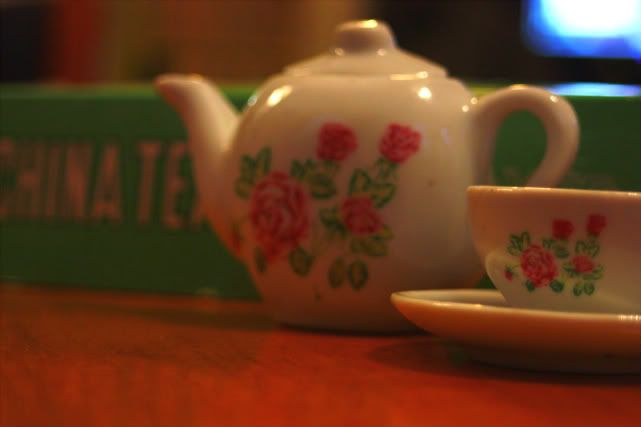 When I was but a wee little lass I loved to have pretend tea parties. Did you do that? I loved the tiny china sets that were just my size. I didn't really care if there was tea to be had, I'd make my own concoction. What might this concoction consist of you may be wondering. Well, I recall one time where I made "tea" out of water and toothpaste (also I made "gum" out of water and toothpaste, I was weird). I can't tell you if I actually drank it, but let's just pretend that I didn't. I am not sure who first introduced me to the tea party or when it became something that I was interested in, but there it was in my childhood. I had tea parties with different family members over the years. It became a way for me to get some one-on-one time with treasured family members like my Aunt Tina and my Grandma Carol.
When my grandmother was visiting this weekend she came up close and in a quiet voice she revealed that she had something to return to me. My aunt ran out to the car to retrieve whatever it may be. My mind raced, trying to think of what I could have accidentally left with her. When my aunt returned a moment later I looked to her hands and couldn't make out what she was carrying up the stairs. I didn't recognize it at first glance. A moment later she produced the child size tea set that you see above. I looked at the box and in the corner was a Christmas gift card that read
To Grandma Carol Love Maria
. I had given (through my parents of course) it to her and we would use it when I visited. She had returned it for Cordelia to use in the coming years. Hopefully Cordelia will enjoy tea parties with her family in the years to come.
Did you ever have tea parties as a child? If so did you drink tea or make "tea" out of toothpaste and water? What about "gum"?