This weekend we had a bunch of family stop in to meet Cordelia. My Grandma Carol, cousin Erin, aunts and uncles were all here. We were so touched that family came from all over the country to meet our daughter and to just enjoy each other's company.
While we were all here we decided to go ahead and have Cordelia's baptism as well. You may already know this, but I am a PK (that's church slang for pastor's kid)---so my father actually preformed the baptism. The coolest part about the proceedings is that the baptismal dress is a family heirloom. You know how I love my family history. The dress itself was made by Cordelia's great-great-great grandmother in 1895! My entire family was baptized in it. You can see how amazingly well the dress has fared over the past century. I was sooo concerned that Cordelia would have a blowout, if you get my drift, but we managed to use the dress and bring it no harm.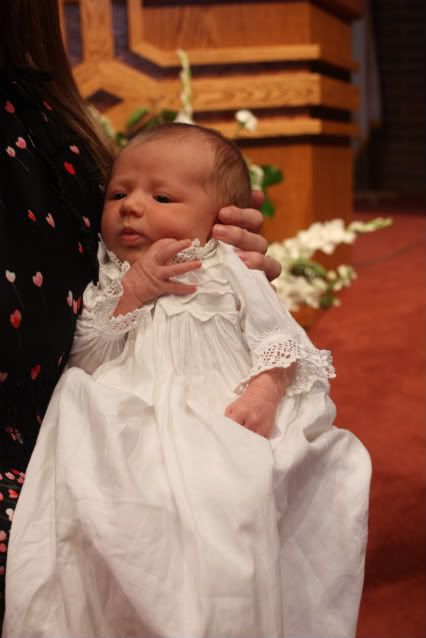 The rest of the time was spent catching up with family and passing around Cordelia. Our family hasn't had a baby in 16 years, so everyone was really quite excited to be around such a sweet little lady. She also chose this week to start her first few smiles! Needless to say we have now been trying everything to induce more smiling, more often than not she will frown. I don't blame her, it makes me uncomfortable when people try too hard.