I often get asked about my meals and just what it is that we vegans eat. I did a little week of food blogging this summer, but I will occasionally post our meals as I am asked about our diet. Just a little catch up for those of you who don't know what a vegan diet is, it means that we don't eat, use or wear any animal products.
Here is a really simple meal that we had last night...
I made sloppy lentils, think sloppy joes, and seasoned and baked potato wedges. For the joes I cooked some lentils and then combined the lentils with onion, tomato, pickles, garlic, salt, ketchup (tomato sauce is good too, it's just whatever you've got on hand) and chili powder. You can really go wild with seasoning or toss in any veggies you like, but our supplies are a bit low. Serve it up on a toasted bun or roll.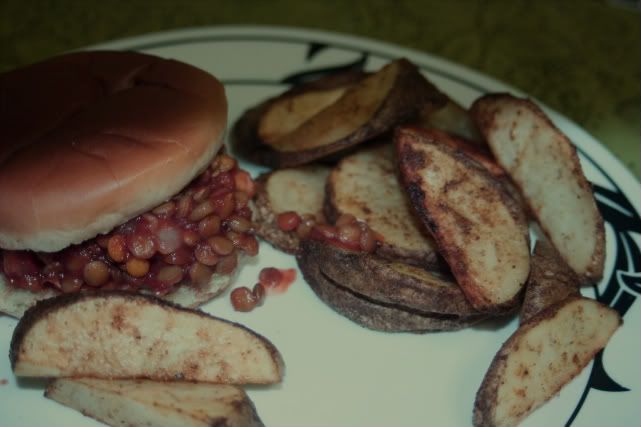 For the potatoes I like to chop up a potato into thick wedges and olive oil then season it with whatever sounds good. Last night that meant garlic, chili powder, cumin, curry powder, salt and pepper. Then I put them on a baking sheet and toss them into the oven at 400 degrees and bake until they look good.