Were you drawn in by the title of this post? I am kind of happy with it, this title and the post entitled
Hair, Unitards and the Death of a Dream
from a couple of days ago. I think I am on a blog titling streak. Anyway time to get on with this post...
Yesterday morning Eric and I loaded up Bumblebee and Cordelia and went for a walk down by the river. We were busy talking about important things like Eastern European cinema, strange ways to make friends here, our project for Andy Mason, people walking around in red robes (we saw one, don't know what the deal was), and everything else that came to mind. All of a sudden I stopped, could I have seen what I thought I saw? I made Eric look with me and we agreed that my eyes were not deceiving me. We were both looking at a peacock roaming freely through the woods. Peacocks are indigenous to the Indian subcontinent ( trust me I checked wikipedia) and not to Wyoming. So, who knows what that was all about.
After our walk we headed out to the
SUPER FLEA
a flea market that was indeed super. When we walked in the door I told Eric that I really just wanted to find some Russel Wright to add to my collection. We began to wander the aisles which held everything from antiques and collectibles to crafty stuff (Wyoming style).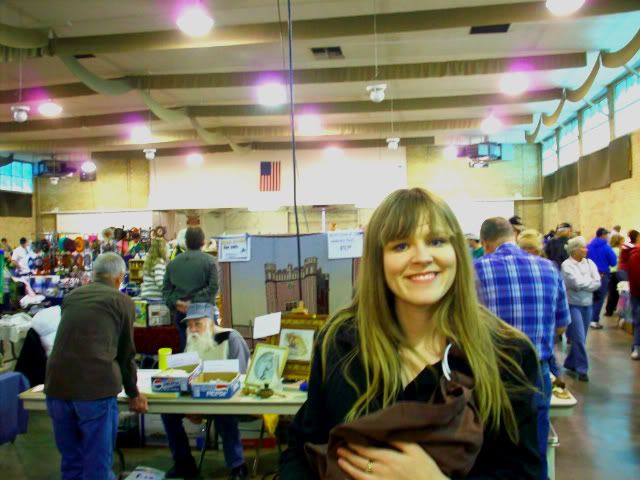 At one booth a strange man jokingly (I am 99.87% sure he was joking) offered to trade me several pieces of jewelry for Cordelia. I did not take him up on his offer, even though he seemed quite nice. I assured him we were pretty attached to her.
We had a good time looking around, there were plenty of people to watch and I am sure fun was had by all. One booth in particular had Russel Wright. We inquired about the prices and she sold us this set (below) for $2. What a steal!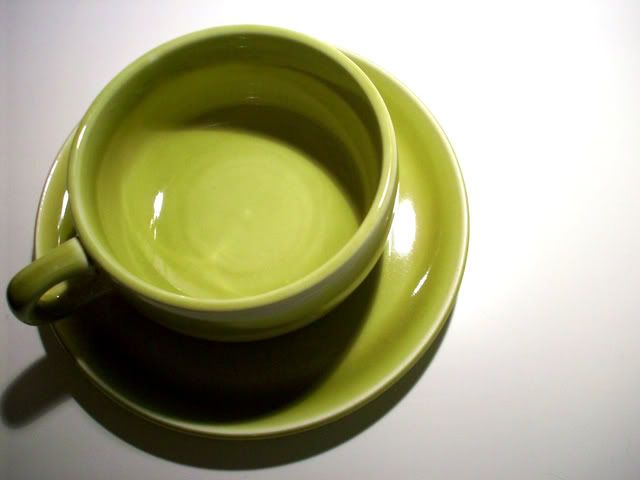 What did you do yesterday?