Well, it's the day after Christmas. How did you celebrate your holidays? Christmas Eve night is when we started the festivities. Eric, Cordelia and I met up with my parents and brother Sam at a Chinese restaurant. For some reason we started the tradition of eating Chinese food on Christmas Eve before the church service. Since my dad is the pastor it's not really a good time for a big home cooked meal, so we find ourselves eating Chinese food, a strange and delicious tradition. There were very few people at the restaurant, so we had the run of the place.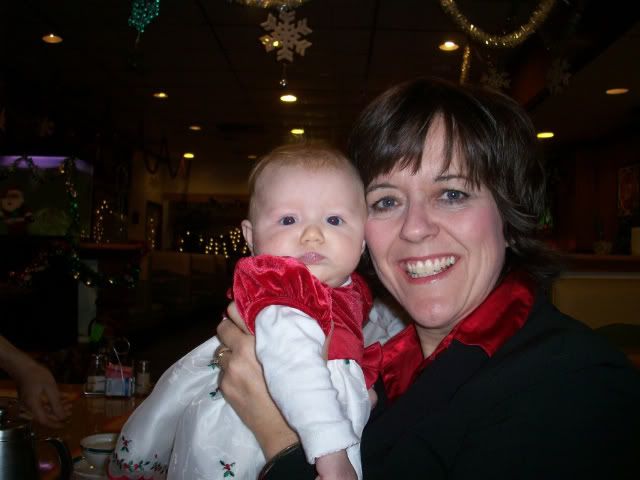 Grandma Sue and Cordelia

I made a food face, of course

After dinner we went to the church service. The service was beautiful, but I can't help laughing when everybody hums a verse of Silent Night, humming en mass is really hilarious. I made eye contact with Sam and just about lost it, thankfully it was time to change Cordelia so I managed not to make a spectacle of myself. After the service we went home and hung out, Cordelia was up late, but in such a happy mood we spent time playing and chatting before going to bed.
Christmas day started early when we woke up and hustled to get dressed before driving over to my parent's house on the other side of town. When we arrived we chatted with Ben who couldn't make it up from Phoenix and then we started opening the presents.
Grandpa Mike and Cordelia
Oh yeah, Eric and I bought a Nerf bow and arrow thing for my dad. When I was young my dad did this thing he called "kid hunt" where he would chase us with a nerf bow and arrow while we ran and screamed, it was fun. Anyway, we thought dad would love to carry on the "kid hunt" to the next generation so we got this for him. Well, the rest of the day included many nerf ambushes, it was ridiculous. Actually as I was leaving last night I was hit in the head with a foam arrow right as I was shutting the door (it's on Sam). So, this may be a gift that we regret...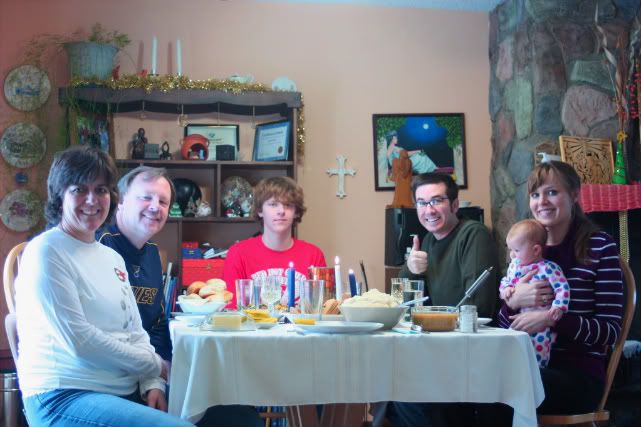 Family Dinner
The dinner was delisious and all vegan! My mom prepared tofurkey, mixed veggies, creamed corn, mashed potatoes and gravy, rolls, yams, stuffing and more! We ate too much and had a great time talking. It was a great day.

Later we returned home and passed a quiet and happy evening as the snow fell outside.

How was your day?