Eric took this photo a few days ago. He was really struck that the footprints were remaining in the snow and that everything else was melting or had blown away. Sure the footprints were still there because the snow had been packed in by some person who had passed by. They surely didn't know that their footprints were still sticking around and making an impression on us.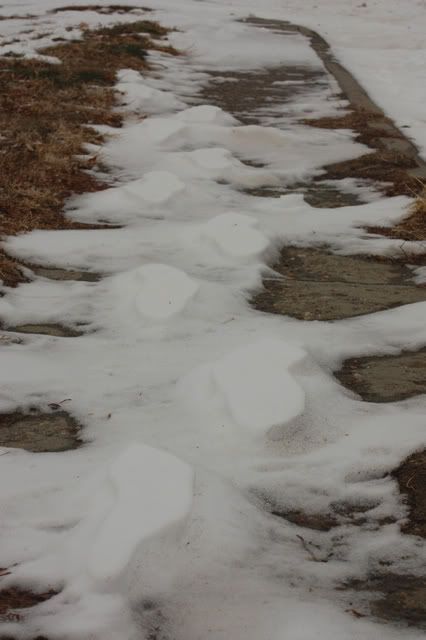 With that in mind I recently read an article on the stuff we have in our lives and just how important it is or is not in our lives. Eric and I have been going through our stuff, downsizing and just keeping the items we really use and love. Well, the article that I read suggested that one might find more freedom in giving up items of sentimental value or just quality items that we still love, but giving them as thoughtful gifts. You know the necklace that a friend has admired or a book that you think someone in your life might enjoy. Just the idea of thoughtful giving coupled with a sense of personal sacrifice.
I started to think about it and was immediately a bit uncomfortable with the idea of giving up items that I still like. I have been pondering that feeling of discomfort and have decided that I must do it because I don't want
things
to have more power over me than my desire to give to others. Since then I have been gathering items for people and I hope to distribute them at some point in the near future. It's really quite liberating to just let go.