The girls, Ophelia and Mia, don't get nearly enough cred here on this blog. I thought I'd take today to talk about our first family members. We adopted the girls just a month or so apart in late 1999. Ophelia (the fluffy one) was in a shelter that I was working at and Mia (the Siamese) was found by a friend on a cold night. When we first brought them together it was a little uncomfortable, some hissing and posturing, but eventually they became very close.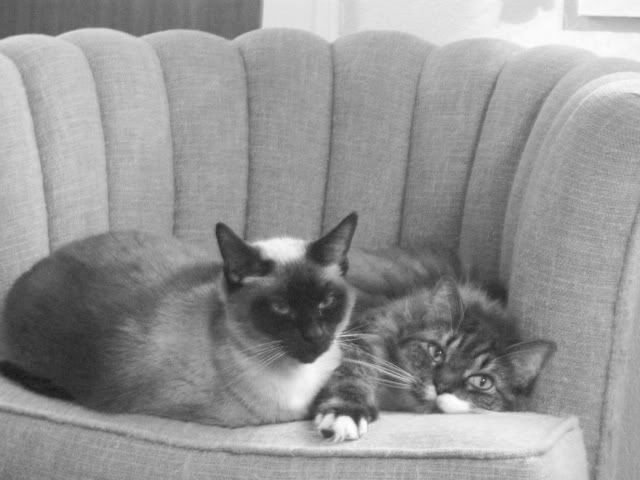 Ophelia is lazy and pretty laid back. Mia is tense and highly strung. They seem to balance each other out. Over the years we have watched their close relationship; they comfort each other in times of fear and play with each other in the middle of the night. When we brought Cordelia home Mia became stressed out. She hid a lot and slunk around the house. She didn't get it when we explained to her that babies, at least while they are this small, have no interest in chasing cats. Mia wouldn't hear it. She would run from one safety zone to the next, certain that Cordelia would somehow gain control of her little baby body and make a full on attack.
While this was a bit amusing another, less funny, symptom began to develop. Mia began obsessively scratching her neck until it was raw and hairless. Gross out factor aside she was seriously stressed out and nothing we did seemed to offer her comfort. Enter Ophelia. She began grooming Mia with extra attention and patience. Her calm seemed to slowly seep in and the wounds began to heal. Now Mia's hair is almost all back and she is going in for regular sessions with her therapist, Ophelia.
_____________________________
On another note we're off to visit the doctor for Cordelia's check up.