Yesterday we stopped by my mom's work to pick up a gift for Cordelia from her co-worker our family friend Jo. She has made the most detailed and amazing gift for our little girl. She made this wrap that you see in the picture below.
Jo, holding Cordelia and the basset hound wrap she made (with basset hound inside)

Let me explain some of the details to you since they may be difficult to see in the photos...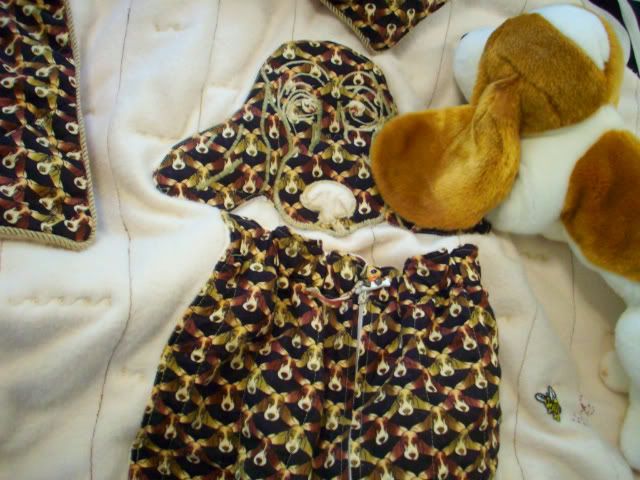 So, she used a basset hound fabric. I think you can see that there is a basset hound clip, she sewed on applique bumblebees, since our basset hound is named Bumblebee. She even put an applique bumblebee on the stuffed basset hound she included in the gift. The wrap also has a handmade applique basset head rest built in (see photo). Finally she sewed in the tiniest details of flowers and bumblebees which was too difficult to get a good picture of.

Anyway, isn't that an amazing gift and perfect for this chilly time of year? Cordelia loves it (I assume since she can't really talk) and then someday she will LOVE her stuffed basset hound. What a thoughtful and creative gift. I've never seen anything so carefully planned and it was created by such a kind woman.