Well, last night Eric and I began our new jobs working at The Home for Aging Animals...otherwise known as house sitting for my parents.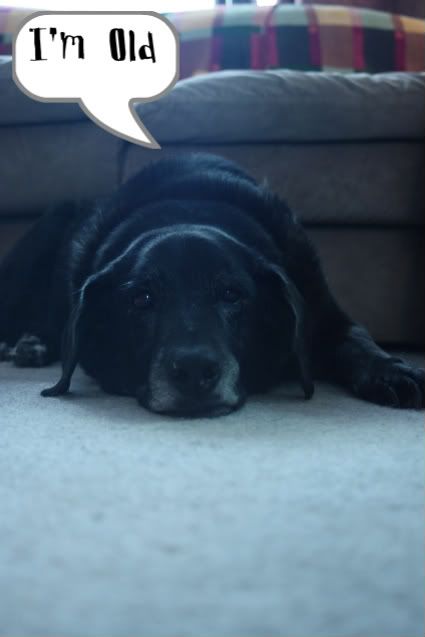 Possibly the Oldest Dog in the World, Grady
My parents and youngest brother have flown the coop like regular snow birds and they are down in Phoenix, just as another snowstorm is about to hit us. (Mom are you reading this blog poolside?) They have gone South to visit my brother Ben, sister-in-law Sara, and my Grandma Carol (a true snowbird).

Eric, Cordelia and I are shuttling back and forth between their home and ours. It's a delicate dance because their dog, Grady HATES Bumblebee with an undying passion. I think that when he is gone his ghost will haunt her. In addition to his hatred for Bumblebee he is somewhat blind and almost totally deaf. Poor guy. He is actually a pretty great dog (with the exception of hating Bumblebee). So we have to keep them completely separated. Lots of math involved.

Lest you think Grady is the only resident at the Home for Aging Animals I should mention Smokey the cat, who is 21 years old I believe. We're not quite sure what's keeping her going, but sometimes she can really move which is shocking and a little disturbing to see something so ancient move so quickly. She still has a zest for life and we're just watching in amazement.

Finally there are the two younger cats, named Mindy and Jane. They are quiet and keep to themselves. Actually I think Mindy is completely insane...but Jane is really sweet. So, we have a very interesting few days ahead of us. Good thing I love animals so much!