OK, before I go on let me tell you that the title actually refers to two different topics. Sadly there is no link (that I know of) between raccoons and video conferencing. So let's start with the raccoon shall we?
Yesterday Eric, Cordelia, and I were driving downtown to pick up the class schedule at my yoga studio. We had to circle around the block a couple of times because it was too cold to trek very far with our little lady. Our second time around the block we spotted a raccoon that was digging through the trash. When it saw our car it started to run for cover. Poor thing, I thought, so out of it's element and trapped in the middle of the city. The next thing I knew the big guy was flattening himself out like a Cirque Du Soleil contortionist as he squeezed his ample hips through the sewer drain! It became clear that he lives in the gutter.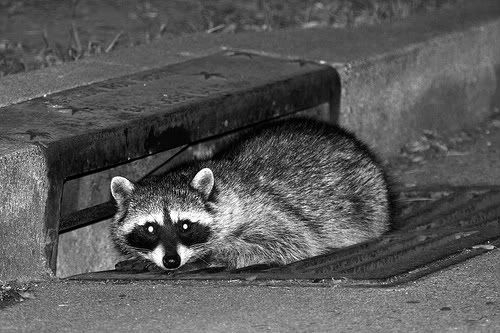 Photo from
here
While there wasn't any time for me to take a picture I managed to find many similar images on the internet, apparently sewage drains are the place to be if you're a raccoon. Keep that in mind if you ever have to venture into the sewers! I'd like to imagine that they are building a city below ours. It would be really cute and also terrifying. I'm a little afraid of raccoons.

On to our next subject... Last night my middle brother Ben and his wife Sara got their first live action view of Cordelia. For Christmas they gave us a web cam and we were able to do some live video chatting.It just so happens that my entire family and Grandma Carol were down in Phoenix enjoying dinner at Ben's new house. He was even able to give us a tour of his new home! What a crazy world we live in. Even though we're far apart it was so nice to see my brother and his wife.

In other news my parents and youngest brother Sam are headed home today. Fly safe and sanitary! See you tonight.