Yesterday was the big labor prep class day. I went in bright and early and made a Norwegian connection with the nurse who was leading the class. Actually her family name is the same as mine, on the Norwegian side. Interestingly this means that we come from the same town in Norway. So, maybe we're related or maybe my great great Norwegian grandmother took a labor prep class from hers. Food for thought...or something.
Anyway, the class was long, but quite informative. Mostly it was nice to just have someone take their time to answer little questions. We all got a tour of the maternity ward as well, so I know where I will be when all of this birthing business goes down.
We did watch a video, but it wasn't nearly as graphic or horrifying as I anticipated. I was more interested in the end result when they handed the mom her baby. I noticed many moist eyes among us pregnant ladies, eager to meet our little ones. I also met some nice folks, maybe not fast friends, but it was something.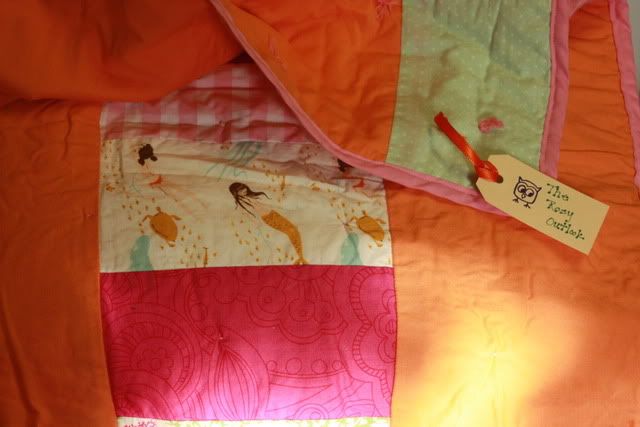 I came home from my baby day to find a package from my friend Stacy from
A Rosy Outlook
. I was thrilled to receive something other than bills and junk mail, but I had no idea what was in store. I opened the box to find a beautiful handmade quilt. I squealed with joy. The blanket is perfect and lovely! I recognized some of the fabric from her blogs and it was just so neat! Eric was really impressed too...and it means something when you impress a man with a quilt. Thank you Stacy we LOVE it. For those of you who are interested, Stacy is quite a multi-talented crafter, just check out her
Etsy store
.