A lot of people have been very concerned with just how Bumblebee would adjust to sharing the spotlight with Cordelia. Well, let me assure you that she has decided that Cordelia is not somebody who is stealing her thunder, rather she seems to feel very lovey and protective toward Cordelia. We have taken to calling her Nurse Bumblebee.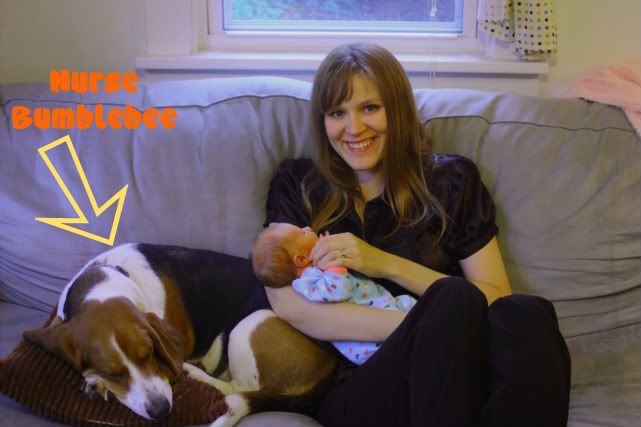 She is very attentive. Every little cry or baby sigh emitted by Cordelia is acknowledged by Bumblebee. She will come over wagging and alert us if we don't react in the way she deems appropriate. She desperately wants to sniff Cordelia with her big wet nose. So far we have allowed monitored sniffing.
Each night Bumblebee is by my side through feedings and diaper changes, seeming to ask, "How can I help?" I have never seen a more attentive pooch. So rest easy, Bumblebee is doing very well with all of the change. Plus, she is super happy that we've had so many family visitors lately.
Speaking of diaper changes...it's time...and I suspect a blowout.