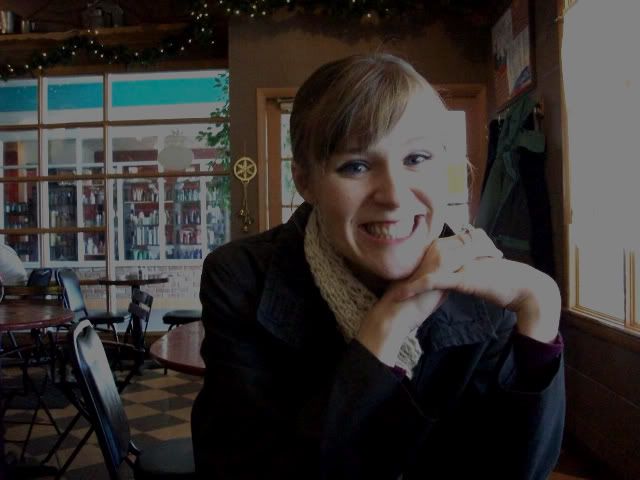 You know how some days it is difficult to find a blog topic? Well, I received an award from Jenny.
and it came along with a questionnaire so there you are blog topic for Sunday! You know I am not big on passing on awards, because I hate to leave anyone out. So you're all nominated. The award comes with the previously mentioned questionnaire, read on if you dare...

Where is...
Your

cell phone

?

Sitting on the couch. I am waiting for my mom to call and tell me she made it home safe and sanitary.



Your hair?

Freshly cut and hanging loose for the first time in ages

.

I usually have it up in a ponytail so Cordelia can't pull on it, she's getting grabby.



Your mother?
On the road.
Your father? I think he's at his house watching football.

What is...

Your favorite food?
Vegan lasagna
. I love anything that is vegan and has tomato paste in it.
Your dream last night?
It was too weird, something about belly buttons.
Seriously, I awoke confused.
Your favorite drink?
Water, I keep it simple.
Your dream/goal?
To live a life of meaning. I hope that is vague enough.
What room are you in?
Living room
Your hobby?
Ha ha, you name it and it's my hobby.
Where do you want to be in 6

years

?

I want to be surprised.



Where were you last night?
Sitting on the couch holding a sleeping baby and watching a movie with my hubby.
Something you aren't?
I'm not a lot of things, but that doesn't matter.
Muffins?
Blueberry pleeease.
Wish list item?
Well, now I want muffin tins. I just had to get rid of mine (long story).
Where did you grow up?
Too many places.
Last thing you did?
Put Cordelia down for a nap and then I spent a good hour staring at her.
What are you wearing?
Black pants that have gotten way too loose on me and a purple and white sweater with a cowl neck.
Your TV?

Off

,

thankfully.



Your friends?
All over the place. I have lived so many places and I always seem to take a few friends with me.
Vehicle?

Ford Focus

,

her name is The Empress



Something you're not wearing?
A fedora.
Your favorite store?
Good Food Store in Missoula, they make the BEST sandwiches.
Your favorite color?
Green
When was the last time you laughed?
I am laughing all the time.
Last time you cried?
I think when Cordelia was born and I realized that she is my daughter was the last time I had a good cry. I also cried a bit last week when I was running on no sleep, like no sleep at all, but let's not count that.
Your best friend?
My husband!!!
One place that you go over and over?
Montana. I miss you Montana!
One person who emails me regularly?
Charlotte
Favorite place to eat?
Home


So, now if you're needing a break from coming up with something to blog about go ahead and post your responses, or just tell me some things about yourself in a response!