I have been thinking a lot about the things that I want to do with my life. I have an ongoing Life TO DO list. Not just the daily to do list, which currently includes researching new insurance carriers, making a shopping list for our upcoming trip to the city, grooming, doing some pre-natal yoga and taking Miss Bumblebee for a walk. I am talking about things like long term goals, places to see, things to do, etc.
Here are a few things on my Life To Do List: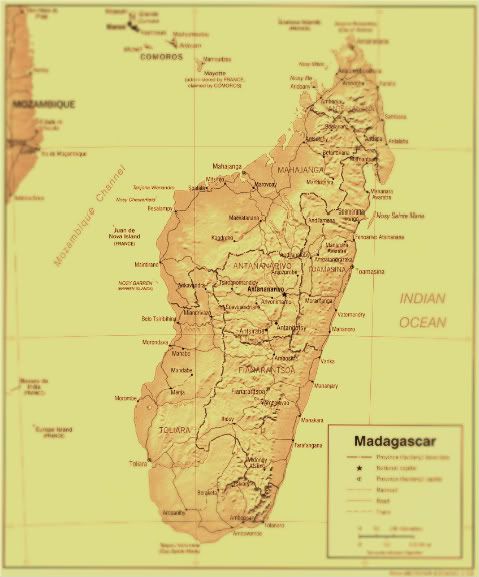 I want to go to Madagascar and have a look around. I guess they're in a state of civil unrest, so this may have to wait a bit. Admittedly I love lemurs and I think that maybe, just maybe, if I visit Madagascar the lemurs will make me an honorary princess (I should note that I feel similarly about manatees and the platypus). Also, the landscape, from what I have seen, is really beautiful and unlike anywhere else on the planet.
Give up the use of nail polish. Technically I have managed this feat for about a year now, but it's an ongoing battle. I had a series of bad encounters with nail polish that colored my nails
yellow
(gross) and it took forever to grow it out. Plus I am the kind of gal who paints her nails and they chip or smudge within a few moments. Now I am on the war path and I think I might win.
Finish my thesis. Ha ha. I have no choice it's got to get done within the next year, but I'd rather finish sooner than later. I really am nearly done. I do have some valid reasons for procrastinating, but they are quickly losing their ground.
Start an animal rescue. I want, in my heart of hearts, to dedicate my life to this.
Become a better seamstress. I can sew a little bit, but I want to be good. I want to be able to design my own clothes and make them so that they fit perfectly. I feel like that would be a great outlet for my creativity.
Get my PhD. Although I definitely need more of a break from school before I dive back in.
Buy a home in Montana. Eventually this must happen.
I want to be a mother. Many people joke that I've always been a mother, just in need of some kids. Let's put that to the test shall we?
OK, this one is weird, but I've always wanted to whittle wood. Not a lot of whittling mind you, just maybe one thing. I remember being a little girl and cutting at a stick with a kitchen knife. You know, now that I write it out it sounds much less interesting. Let's keep this one as an alternative.
Learn Spanish and Russian and any other language that strikes my fancy.
I want to take the Grand Tour. After my art education it feels entirely necessary. I mean what else am I going to use an MA in art history for?
Learn how to swim. I can swim a bit, but really it's sad to watch. I dog paddle and tread water. I also invent my own techniques. Don't even get me started on my diving, no seriously it's really bad and my family has it on video...they showed it to Eric before he married me. Anyway, I'd like to be able to do the basics.
What's on your list?