Well, the past couple of weeks has been a little bit on the busy side, but now I am back into the routine for a couple of days. How have you been? I feel like I've been in a fog or something.
We had a great visit with our friends Andy and Anne. They just left 10 minutes ago. When I closed the door after a goodbye Miss Bumblebee gave me a look that seemed to say, "
Well, I guess it's back to just us."
Then she sighed and is now napping on the couch.
Here is a little update of what I have been up to: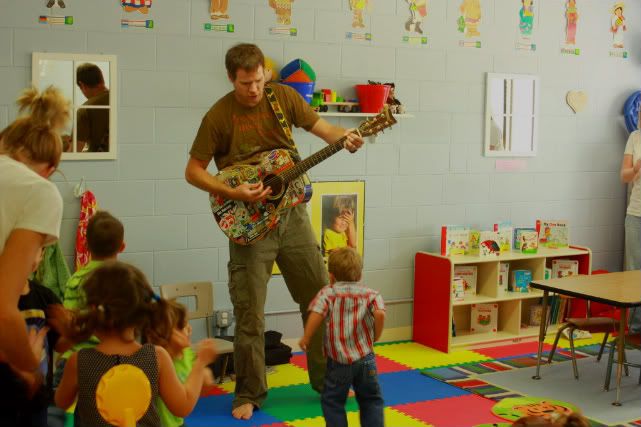 Yesterday we went to a daycare and watched Andy give a performance. We had so much fun. The children had a blast. I can certainly see why Andy has been able to find such success in this field. My cheeks are still sore from all of the smiling we did. Above is a photo of the performance.
We spent most of the day with Anne and Andy. We went out for lunch, took walks and chatted with each other. It was much needed and so pleasant!
Eric and I took a little detour to the doctor's office for a regular checkup on our little girl. She is doing very well. The appointment was thankfully uneventful and all is well. I am getting really excited about this little lady!
What have you been up to?