Yesterday evening Eric and I were discussing the fact that we need to get a few good pregnancy photos for the archives, now that I finally look pregnant. We have been struggling with the pregnancy photo issue. We really want to take some pictures that are unique and different. Pregnancy photos are tough, because they are pretty formulaic by nature. The whole point of them is to focus the viewers attention on the belly and there are a few tried and true methods for doing such a thing. I must note that we didn't want to do anything too pretentious or artsy (because we can certainly do that), just simple and joyful.

Thankfully Eric is a great photographer and he worked well within the established cannon of pregnancy photography. Here are the results of his efforts.

Exhibit A) Here we have the classic belly gaze. I think this type of photo is just a requirement for any pregnant lady.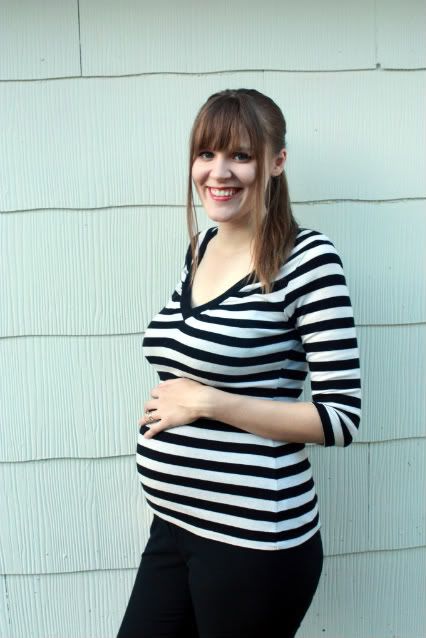 Exhibit B) Next we have the belly grasp and smile. This style of pregnancy photography is all about showing how happy the woman is to be pregnant in spite of all of the discomforts and it's true pregnancy is really amazing.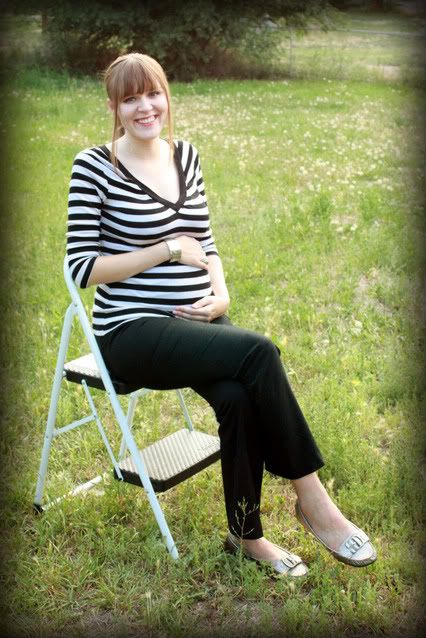 Exhibit C) The two handed belly grasp. Yep, we pulled out the big guns here. You can only mean business with the two handed belly grasp.

Bonus Story that is probably only funny to Eric and I:
Yesterday Eric and I were out running errands and decided to stop and have a cup of coffee. On our way to the coffee shop we were joking around and Eric said that he was going to order a coffee for his baby mama. I knew he wouldn't say such a thing because it's just kind of a dumb thing to say. Anyway, I triple dog dared him to do it.
We went into the coffee shop, which had a fair amount of customers all standing within ear shot. I gave Eric
the look
in order to taunt him about the dare, not expecting him to do it. When the coffee guy came over in his skinny jeans with perfectly coiffed, slightly messy hair and just the right amount of practiced distance in his eyes he asked what we wanted. Eric responded by saying," I'll have a house coffee and a decaf for my baby mama here." He also pointed to my pregnant belly for emphasis. The coffee guy was utterly unimpressed, but the gal behind us was amused. Ahh the power of a triple dare, they're never really that funny but they always hold power.