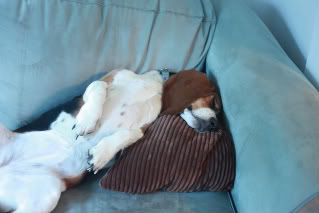 Earlier this year I interviewed Miss Bumblebee (
read it here
) and I thought it was about time we heard from her once again. Naturally Bumblebee cannot speak English so I have had to use my animal translation skills to once again decipher her whines, barks, burps and huffs. Enjoy.
Maria: OK Bumblebee it's been several months since we last did an interview and you've been through a lot of change. How are you feeling about the move to Wyoming?
Bumblebee: Frankly I am quite pleased that we decided to move here. I really enjoy seeing more of your family.
Maria: Yes, my family. Do you mind telling me why you freak out when they come over for a visit?
Bumblebee: Freak out? I don't know what you're talking about.
Maria: Ummmm, well you squeal, rebound off their bodies, run in circles and then howl.
Usually this production lasts for a good ten minutes.
Bumblebee: Oh that. Hmm I believe I have the right to express myself in any way I choose.
Maria: Fair enough. That reminds me, Eric and I often say that if you were to get a college degree that you would be a theater major. Do you think that is a fair statement?
Bumblebee: Oh yes, I love the theater. I see my name in lights.
Maria: I suspected as much. Now, let's move on here. Can you tell me how you feel about becoming a big sister?
Bumblebee: Well, I am a little concerned about sharing the spotlight. I do feel better now that you've assured me that my human sibling will soon drop lots of food onto the floor.
Maria: Good. I am glad that you are beginning to accept the inevitable.
Bumblebee: I am trying to be mature about the whole ordeal.
Maria: Thank you.
Bumblebee: Let's steer this interview back toward me.
Maria: Yes of course. Now tell me about this boy dog at the end of the street. You seem to have a little crush on him.
Bumblebee: Oh yes, he's so dreamy. I can hardly keep myself from marking my territory right next to his fence.
Maria: What makes him so special?
Bumblebee: Well, he has that whole bad boy thing going for him. Do you remember that day when the garbage was strewn across the lawn?


Maria: Yes, I do. I could smell it half a block away.

Bumblebee:What a rebel. Then there's that brown patch over his eye, well how can a girl be expected to resist that?
Maria: Well, I am about ready to wrap up this interview. Do you have any plans for this day?
Bumblebee: Why yes I do. I plan to nap for several hours, take a walk, whine obsessively while we ride in the car and I anticipate that I will receive many treats as compensation for this riveting interview.
Maria: Well, I doubt that, but I think I am ready to end this interview.