Like many a little girl before me and many a little girl to come I was obsessed with horses. I am not quite sure when or where it began, but it was certainly perpetuated by popular children's shows like Rainbow Brite and She-ra who had magical horse pals.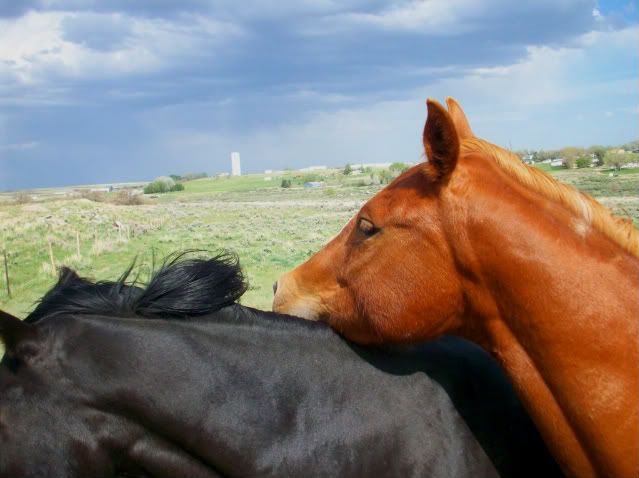 I remember daydreaming about a flying horse that would come down to me and open a magical world of...well I don't know what, but I am sure it would have been magical. I even recall being around 5 or 6 and wishing on a star for a horse of my own.
Since I can remember I have always tended to think of myself as some sort of intermediary between the human and animal world, although neither humans nor animals seem to see me in the same light. When I was just a wee little girl I had the opportunity to be near a young horse. I was warned not to walk behind this animal, but since I was the authority on all animals I knew that any rules about horses could not possibly apply to me. I walked right up behind the horse and was kicked in the face. Don't worry, I survived. I don't really recall my thoughts or feelings about the incident beyond these two facts 1)that I was given a butterfly band aid and I was greatly disappointed that it didn't actually look like a butterfly 2)and that I bled onto my mom's killer 80s shirt; it was white with a grid and had all sorts of geometric shapes on it. She was able to get the stain out and wear it with pride after the incident.
A few years later, we were living in Montana and I discovered a horse nearby. I began to visit him regularly. I pretty much just pretended he was my horse. I would bring him food and just gaze at him, willing him to talk (because in my mind all horses could/can talk). The horse was just fine with my visits. He was happy for a nice pat and some free treats. OK, in full disclosure it was a little creepier than I care to admit...I actually rode the horse and once I even braided it's hair into my own. Don't you judge my childhood fashion choices.
Now, twenty years later, I am still in love with horses. Something about their smell and the look in their eyes. I don't think I would ever ride a horse again(unless it asked me to), but I would love to rescue horses. I should also mention that I happen to love
gentle donkeys
as well.
I guess that's all I have to say about horses today.