Yesterday was a really good day...well with the exception of my doctor telling me not to count on a baby this week. His actual words were "She's still in Timbuktu." I am not really sure what that means, but this is coming from the "You're locked and loaded" guy, so I won't really try and break down the meanings of the strange things he says.
Anyway...
Yesterday was quite lovely. My parents called me late in the morning and invited me on a picnic at the waterfall. Truthfully they invited Bumblebee, but she couldn't go (she was in trouble) so I went in her place. My parents seemed to accept the substitute, although my dad was visibly disappointed to miss out on any Bumblebee time.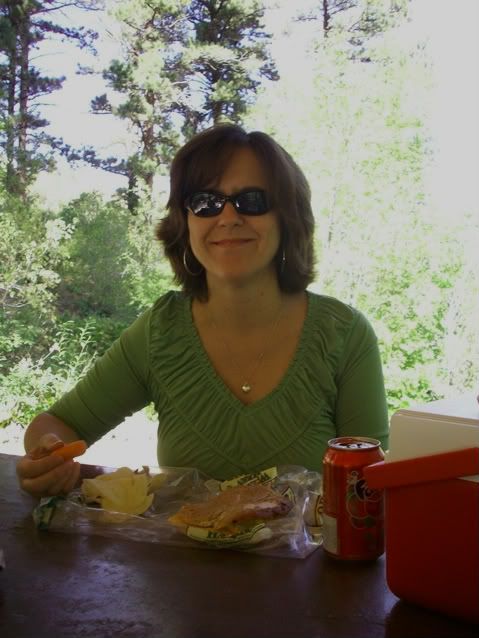 My beautiful mom on our picnic.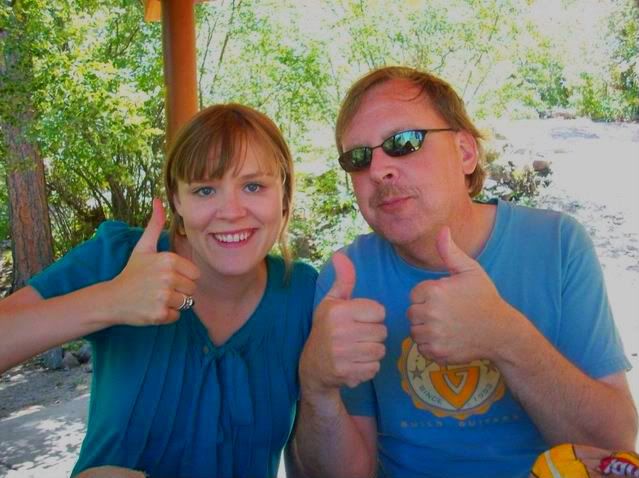 My dad managed to have a nice time even though Miss Bumblebee wasn't there.
The weather was perfect, not too hot and not too cool. The only distraction came when we could hear the trail maintenance folk pumping the outhouse...and they were gagging. Thankfully it was out of sight and happened after we'd finished our meal and were just chatting.

After lunch I went for a little drive with my mom and then ended up back at my house. Eric got to work from home in the afternoon. When Bumblebee heard our car pull into the driveway at an earlier than usual time she sprung up and went bolting to meet Eric, but she'd been asleep and didn't quite have control of her body. She went flying across the linoleum in the kitchen and rammed into the cupboards, but it didn't phase her. She was at the back door eagerly wagging and waiting for Eric to enter.

Later we decided it was time to take Bumblebee for a walk by the river right at sunset. It was absolutely beautiful, the sun was setting, the clouds of mosquitoes glittered (OK that maybe was a bit-o-sarcasm). Once we dodged the mosquitoes it was quite a lovely evening.