OK, maybe we're not, but we were on the news yesterday! Let's begin at the beginning. Yesterday morning Eric, my mom and I went to the fire station to have the car seats checked. My mom has a car seat for her car too; isn't she a good grandma already? We pulled into the car seat check line and saw that a news anchor had his camera shooting directly into the back seat of my mom's car. Eric and I made googly eyes because a) we couldn't believe that we were sighting yet another newscaster b) we thought maybe they'd like to interview us and put us on the news (then invite us to their newscaster lair).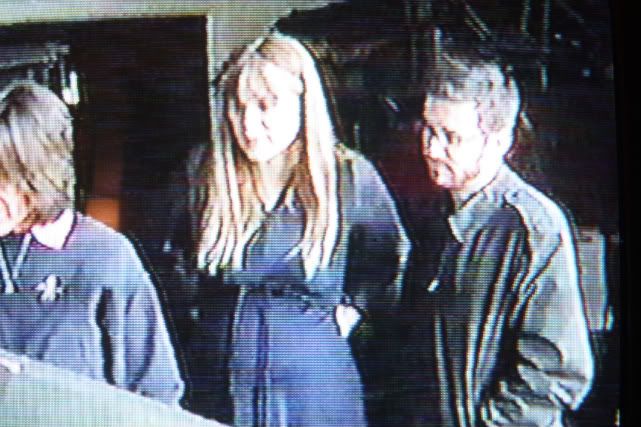 My Mom (or part of her head), me and Eric
We were not really featured on the news so much as flashed on the screen for about 1 nanosecond. We were so thrilled that we watched it at both 5 o'clock and 10 o'clock. We played it cool, this isn't the first time we were on the news (
see our 7 year anniversary post
).
Then, after our car seat was properly installed we were out for coffee and had another newscaster sighting. It has been suggested that the newscasters have started to stalk us...