So, you know how you put a gift tag on a present, just saying the general information? For example a normal gift tag might read:
To: Maria
From: Mom and Dad

Well my family, specifically my dad, has a different tradition. He likes to come up with bizarre tags that hearken back to some recent event or inside joke. Usually I enjoy reading the tags almost as much as opening the present itself. This year was no exception.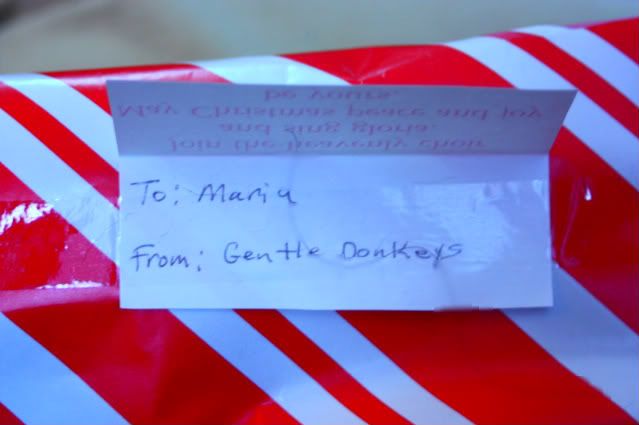 Here is my favorite one from this year. It reads,
" To: Maria
From: Gentle Donkeys"
Now you may or may not know that I spend a lot of time talking about how I want to adopt a gentle donkey (
read about it here
). My dad thinks this is pretty funny so it was destined to make an appearance this Christmas. My dad is awesome.
Eric takes gift tags to a weird place. This year he addressed a card to me in the following manner:
"To: She who walks with Eagles
From: The Dragon of Wonder"
Your guess on that one is as good as mine. I should also mention that the card included images of unicorns and a castle. He said that it was a toss up between that one and a card with a Native American riding a tiger. Who comes up with these weird cards anyway???

Does your family do weird gift tags too? If so do you have a favorite from this year?