Well, good morning! It's 2010. Did you stay up to watch the ball drop? Were you at a party? What did you do? I did manage to ring in the new year, but in a very low key manner.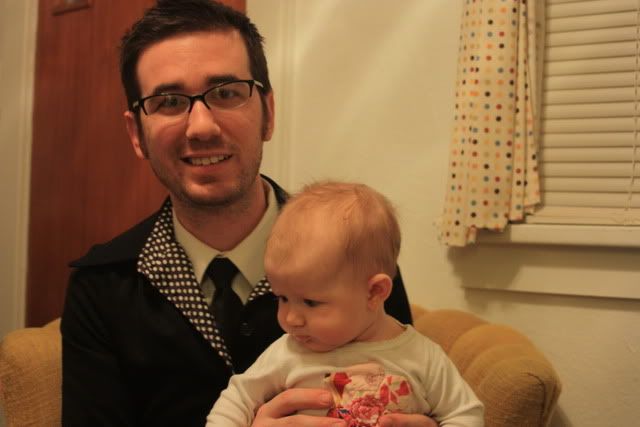 Eric and I dressed up last night, even though we were staying in with Cordelia and the crew (the crew means our cats Ophelia and Mia and Bumblebee our pooch). We had a lovely time and got Cordelia to sleep at a decent hour. We spent a lot of time discussing just how far we've come in the past year and wondering where the next year and decade might lead us. Later in the evening I fell asleep on Eric while we were watching Die Hard 2 on the couch and Eric woke me up about 5 minutes before midnight. So, technically I rang in the new year...but we were not party animals.
I have made a few resolutions and such, since I am a big fan of continually trying to improve myself. I also took an idea from
Stacy
and Eric and I came up with a theme for 2010, taken straight from The Rocky Horror Pictureshow (where all great wisdon comes from right?), our theme is Don't dream it, be it. Seems simple enough.
A few of my resolutions are as follows:
Run in a marathon...no need to win it.
Get back to yoga classes. I start taking them this month!!!
Eat only whole grain breads at home. We are not 100% on this one and I just want to get there.
Be the best mother I can be for Cordelia.
Do not trim my own hair...I am really not that good at it.
Be the best wife and friend that I can be for Eric.
Continue to pursue sewing skillz (yep, with a z)

I also won an award from
Jenny
, thanks! The reward requests that I spread the cheer, but I do not like to choose favorites...so if you read this consider yourself nominated!