Yesterday afternoon I was just settling down for a nap along with a sleepy little girl. The phone rang and she opened her eyes and smiled, nap over. I was half expecting the call so it wasn't a big deal. My mother, grandmother, uncle and aunt were going to stop by to see Cordelia. My Uncle Mike and Aunt Pat had missed us when we visited last month and wanted to meet our little lady. I said that they should come on over, but then I looked around the house...baby toys were strewn about in a way that I had
sworn
(pre-baby) would NEVER happen in my home, a pile of half folded laundry lay in the middle of the room, a pile of half opened mail sat on the table, Bumblebee had pulled several of her toys out and that doesn't even include the kitchen. I asked my mom to make it 30 minutes before they arrived. The smiley girl and I rushed around the house getting things in order. I'm not a fanatic about keeping a neat house, but the place was pretty much a work in progress, everything halfway done.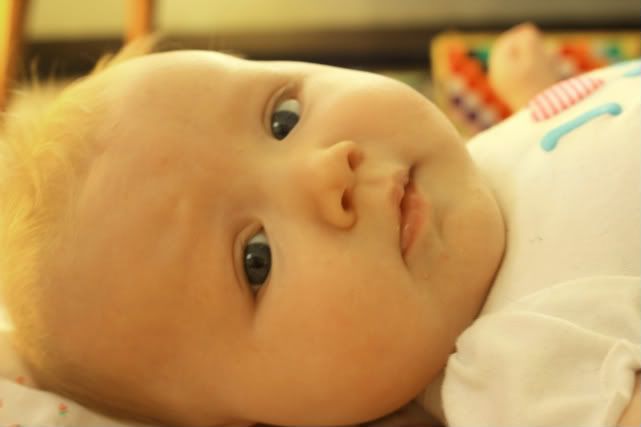 Soon enough I had things in order and even had a few moments to freshen up. I sat down on the couch with my little girl and texted my mother that all was ready. A moment later I had Cordelia playing and giggling when...urrrp...she spit up all down the front of her shirt and pants, mid giggle. I scooped her up and went about the changing of her clothes. I was in a rush to get her changed when I looked down at her, she started gurgling and laughing hysterically. Oh yeah, it hit me. I don't care if my house is neat or if my baby is perfectly clean because she is
so
happy. So, we slowed down and played, enjoying the moment between mother and daughter. She was dressed and ready by the time they arrived, no need for the frantic pace I had set.